Week Beginning 29th March
We have had another super busy week in nursery this week! Here is what we have been up to...
Literacy:
This week we looked at changing different things in our topic story. First, we had a think about what other characters could be in the story. We know that the Little Red Hen lives on a farm so we thought about some different farm animals to help her make the bread. Then we decided that we would change what she made. Instead of making bread, we decided she could make pizza! This led us to designing our pizzas and then following instructions to make our very own. They were delicious!
Maths:
In maths, we have used Easter eggs to compare amounts. We had 2 Easter baskets with different amounts of eggs in and we decide which one had more/most and which one had less/fewer. We then emptied the baskets and had a discussion about how to make it fair. To make it fair, we now know that we have to put the SAME amount of eggs in each basket! We also used the dice to tell us how many eggs to count into the baskets. It was lots of fun!
Music and Movement:
This week, we became the queens guards! We had a look at a picture of the queens guards and watched a video of their parade. Miss Alfrey taught us how to march just like the guards. We had to swing our arms and raise our knees whilst walking. We saw that they sometimes use instruments so Miss Alfrey banged the drum whilst we marched in a line to the beat. After some practice, we then learnt some solider language such as 'attention' and we stopped and saluted! We were fantastic at matching to the beat!
Easter afternoon
This week we had an Easter craft afternoon. We made chick biscuits, Easter hats and Easter decorations. We were super tired by the end of the afternoon.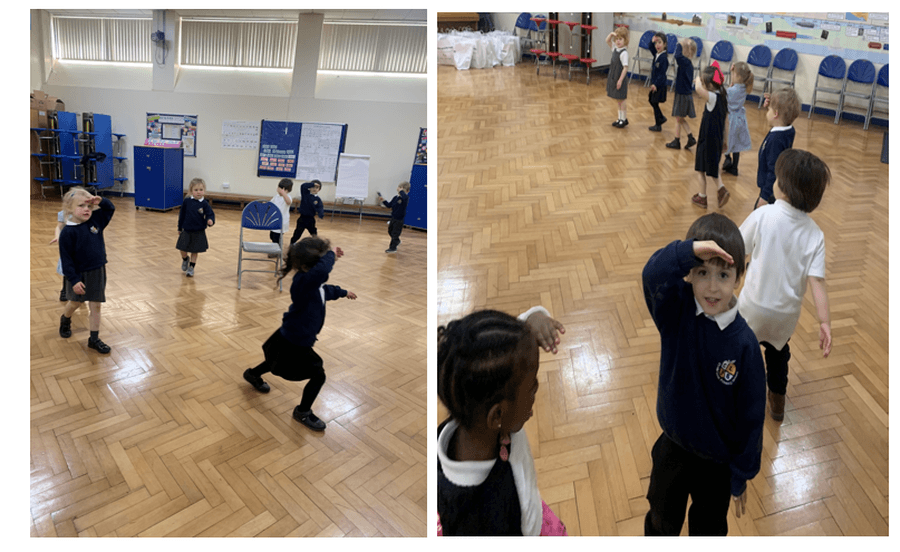 Week Beginning 22nd March 2021
In literacy this week, we have been retelling the story of the Little Red Hen in different ways. First, we worked as a group to create a story map, then used it to retell the story. Next, we used props to take on a role of a character and retell the story using familiar phrases from the characters. This was so much fun! We looked at some of the pages from the story that had been muddled up and put them back in the correct order, talking about the beginning, middle and end. We are becoming experts at retelling!
We also looked at the life cycle of a chicken. We know that chickens lay eggs and out hatches a chick! We watched a video of a chick hatching and we all found it super cute to watch! We used our cutting skills to cut out the different stages of a chickens life and stick them in the correct order to create a life cycle.
In maths, we played a new board game. It was the little red hens game! We had to start on the characters, roll the dice and move the correct number of spaces across the board. The first one to get to the bread is the winner! We played together as a group before playing with a partner.
In music and dance this week, Miss Alfrey became the toy master and the children became the toys. We looked at different toys and how they might move/dance. We decided that cars would move very fast, dolls would do twirls, balls would be super bouncy and teddy bears would move very slowly. We then turned out the lights and the toys came alive and danced/moved to the music. When the music stopped, it meant someone had come into the toy shop so we had to lie on the floor and keep very still. We were very good at it and luckily, nobody noticed the toys were alive!
Week Beginning 15th March 2021
This week, we had a special delivery to our class. When we came into nursery, we noticed some feathers around our classroom and a box with some things hidden inside. When we looked in the box, we found an apron, a baking tray, a rolling pin and some bread. We had a good discussion about who these items might belong to. We thought it might be a bird because of the feathers that we found on the floor. We then found a letter from the Little Red Hen saying she had baked us some of her delicious bread! It tasted very nice. She had also left us her story to read! When we read the story, we thought that the animals were very unkind to not help the Little Red Hen to bake the bread. So we decided to open our very own bakery in nursery to help her do some baking. We learnt all about the ingredients and equipment we would need and found the Little Red Hen's recipe for her bread rolls. We had lots of fun in the bakery baking cookies, bread and cakes!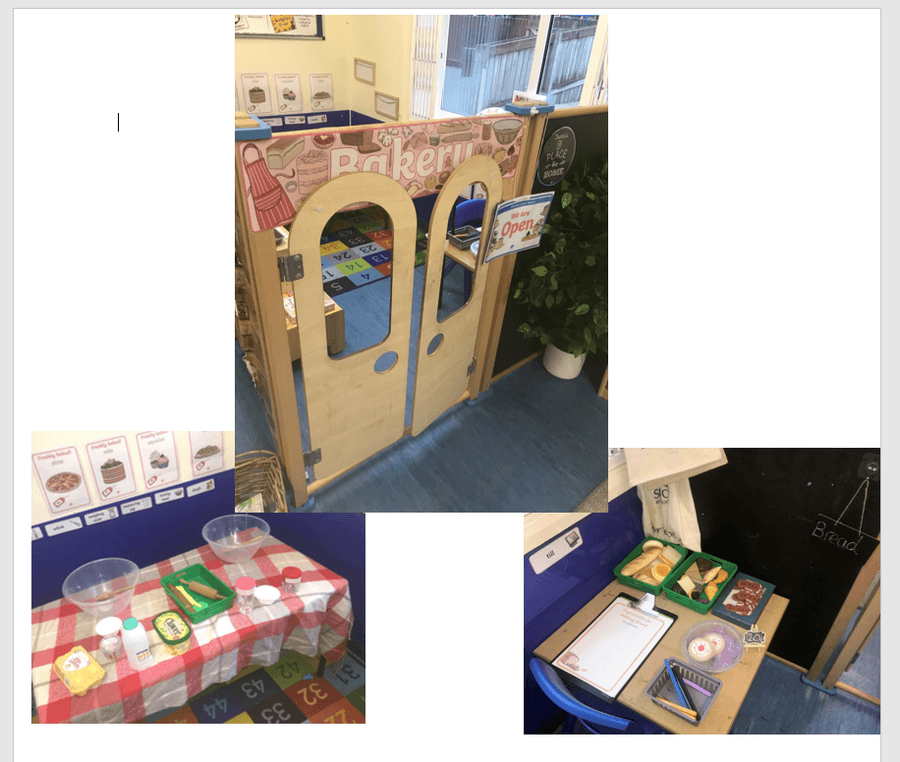 In maths, we looked at a farm board game and what we needed to play the game. We learnt the rules of a board game, how to use a dice and what the counters are used for. We worked together as a group to practice rolling the dice, saying the number and moving the counter the correct number of times up the board. We are getting much better at it now! We then had a go in teams, taking turns to roll the dice and move the counters. It was so much fun!
We worked really hard in our 'Squiggle whilst you Wiggle' session this week. We used our pinchy parrots to make marks on the paper to music. We made lots of colourful marks!
In music and dance, we discussed the different ways robots moved. We then moved around the hall just like robots!
We had a great time in the forest this week. We explored the forest and collected different natural resources to take home.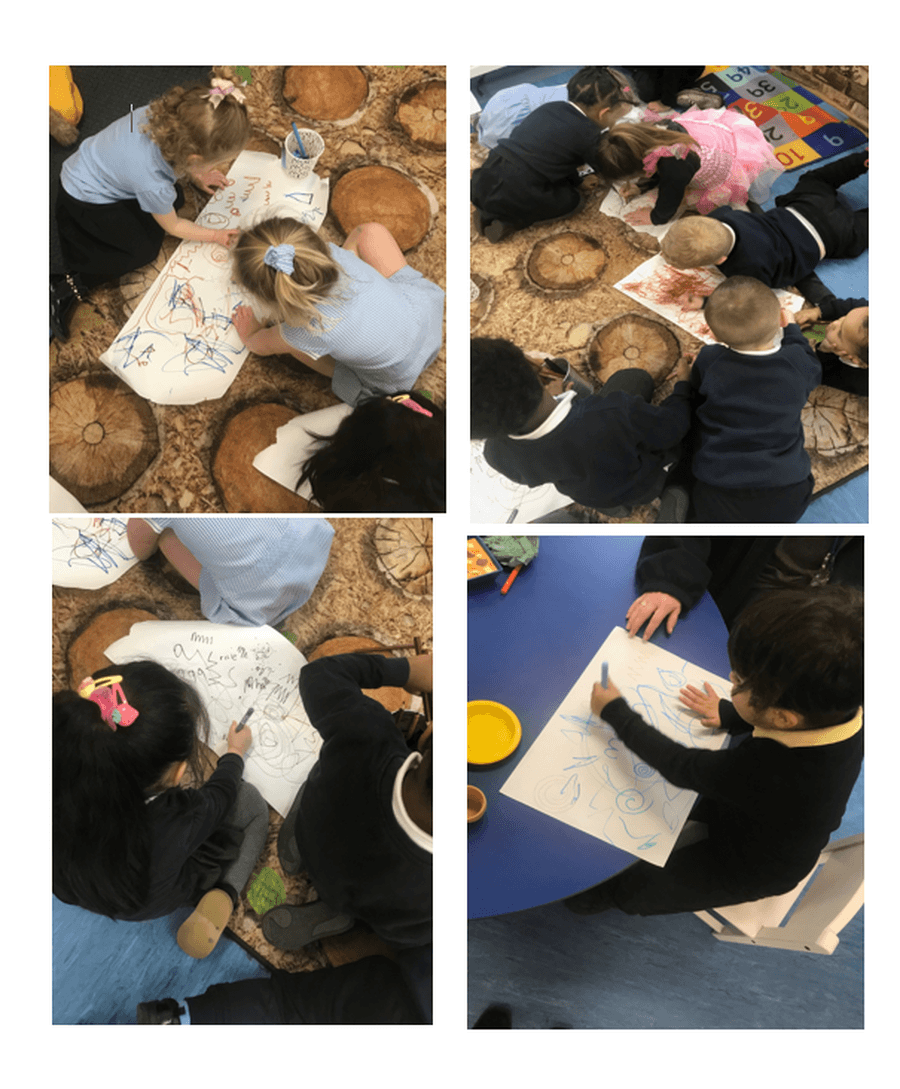 Week Beginning 8th March 2021
We have had a fantastic first week back to nursery. It has been great to see all our friends and have lots of time to play and explore the indoor and outdoor environment. This half term, our topic is 'On The Farm'. We will be learning lots of things about what happens on a farm and who lives there.
In Literacy, we have been learning what oracy skills are. We had a look at the physical strand and introduced some visual cue cards to help us remember. We then practiced our oracy skills by working in talk partners to tell each other what we could see in some pictures.
In Maths, we revisited numbers 1-5 and used our five frames to show these numbers.
We would like to say a huge welcome back to all our children after such a long time learning from home. We are looking forward to lots of fun, exploring and learning for the rest of the school year :)
Week Beginning 8th February
We were super excited when we came back from lunch and noticed some different coloured paw prints on the carpet. We also found a box covered with a blanket. We had a good discussion about who could have left the paw prints and what could be inside the box. We had lots of good ideas. Some children thought it could be a puppy and others thought it was a bear! But we were all a bit confused with the colour of the paw prints.
When we lifted the blanket, we found our topic book and Pete the Cat. We loved hearing about his white shoes and the different things he stepped in to make his shoes change colour. We are also experts at singing his song now. In perfect tune of course!