If you would like to make contact with your child's class teacher, please use the following email address. Teachers have been instructed to check these regularly in the event of a school closure, however you may not get an immediate response.
y3parents@crablane.manchester.sch.uk
If you visit this page, please send us a blog post or an email to let us know how you are
Week commencing 30.3.20
Maths
Watch this video to remind yourself of how to set out column (formal) multiplication.
Remember we use our columns to help us set out our numbers in to the thousands, hundreds, tens and ones.
Have a go at the chili challenge below when you're ready!
Worded Problems
In the next document, there are 3 levels of Multiplication worded documents. Pick out the numbers and multiply them. See how many challenges you can get through. On Challenge 3, read the questions VERY carefully before multiplying.
Spellings
Practice these spellings. If you're not sure what any of the words mean ask an adult of use the internet to help you.
Ext. Try writing the words in to sentences. Remember your capital letters and full stops!
Literacy
This week we will be working on adverbial phrases.
S3.5 Adverbial Phrases
Target on Year 3 Writing Learning Ladder.
An adverbial phrase is a Phrase built around an adverb. Learn all about them with examples.
What is an Adverbial Phrase?
An adverbial phrase is used in English and are taught to kids in school when learning about adverbs. An adverbial phrase is a group of words that have the same impact as an adverb. They modify a verb, adjective, adverb, clause or an entire sentence.
Adverbial phrases can make a sentence more interesting and exciting. They tell us how, when, where, why and how long.
Examples of adverbial phrases:
Adverbial phrases can use the following: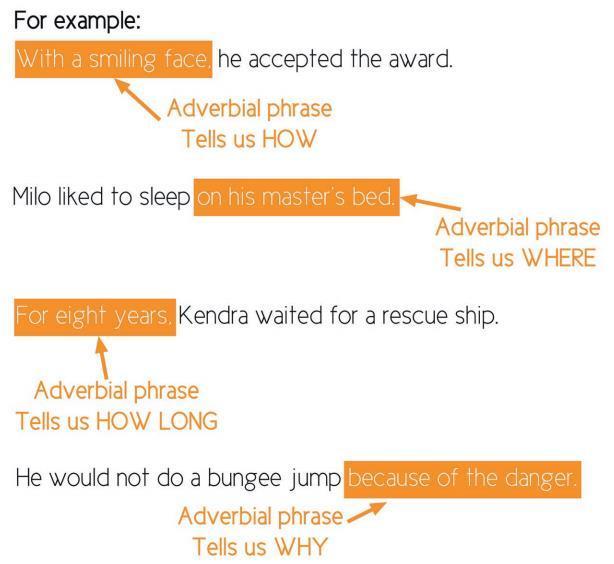 In a while,
After school,
At midnight,
Under the stars,
On top of the mountain,
Like a hungry lion,
Adverbial phrases help to add more information to a sentence. They can describe how something happened or will happen. They can show time and tell us where something happened.
Complete the worksheets below on paper. Use the sheets to inspire some amazing writing!
Science
Listen to the Plants Now Press Play and have a go at the quiz below.
now>press>play
now>press>play have provided us with a login so children can access the audio experiences from home. There are also follow up activities that can be completed, after each experience. Children can listen to these experiences using headphones, or just play the audio out loud.
http://nowpressplay.co.uk/learn-at-home/
password: nowpressplay
IPC - Geography and History
This term we have been learning all about the Stone Age. We have already found out that at the end of the Stone Age, the humans who were alive then started to settle down and create Settlements. One of these settlements was called Skara Brae.
Read through the Powerpoint below, and complete the tasks.
Task one: Create a big poster with lots of facts about Skara Brae. These facts are found on the powerpoint.
Task two: Draw your own Skara Brae house. Look at the pictures of the houses in the powerpoint to help you.
PSHE and Well-being
We know right now is a bit of a tricky time for you. To help with your PSHE and welling during this time, we will provide a list of things that you can do. These have been provided by Manchester Healthy Schools.